The idea behind dreamOlé Academy is to keep up the dreamOlé spirit this year. We couldn't host our in person conference in Madrid last April, so we wanted to do something to alleviate that, as we've had a lot of comments from everyone that they miss this year's conference.
So we decided to innovate after the challenges that the COVID pandemic has brought to us, and we started planning thinking about ways in which we could make our regular attendees, sponsors and new friends happy. Everyone is welcome!!
We thought a good way of keeping the ball rolling would be by running a few online sessions with some of the speakers we had inviting all of the dreamOlé family to come along in the last months of 2020.
Have a look below to our amazing schedule, and do not forget to register!!
How can people register for these sessions?
People can register by sharing their email address with us through this form:
Feel free to share this link with anyone you want so they can register to attend. That way we'll reach a bigger audience.
We will be sending a calendar invite for each of the individual sessions to all of the emails we get registered via that form.
Schedule
We'll be running 5 sessions from October to December, starting on Thursday the 15th of October, and the following sessions will be on Thursdays every 2 weeks until Thursday the 10th of December.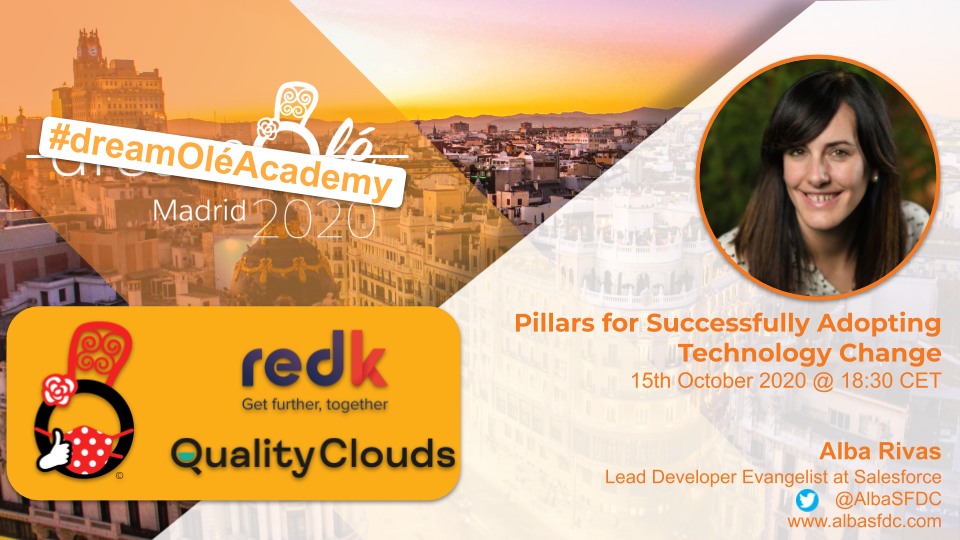 Session 1 Date: Thursday, 15th of October 2020 @ 18:30CET
Session Sponsors: redk & QualityClouds
Session Abstract: In today's world, technology changes rapidly, and we've seen this vertiginous evolution very clearly in the Salesforce ecosystem. Join me in this session and I will tell you about my pillars for successfully adopting technology change, leveraging the amazing opportunities that change brings to you.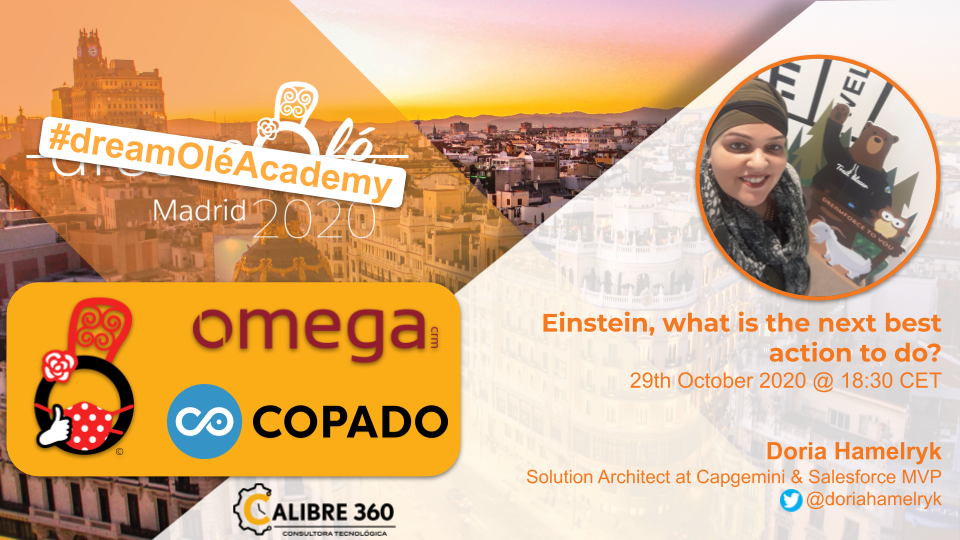 Session 2 Date: Thursday, 29th of October 2020 @ 18:30 CET
Session Sponsors: Omega, Copado & Calibre360
Session Abstract: We live in a world where more and more customer data is available. In parallel to this, the number of predictive tools is constantly growing. How do you know, based on all this information, what is the action to take that will have the greatest impact on your customers? We will see together how it is possible to make available the right recommendations to the right people at the right time in a few clicks, and how to automate the actions to be carried out based on these recommendations.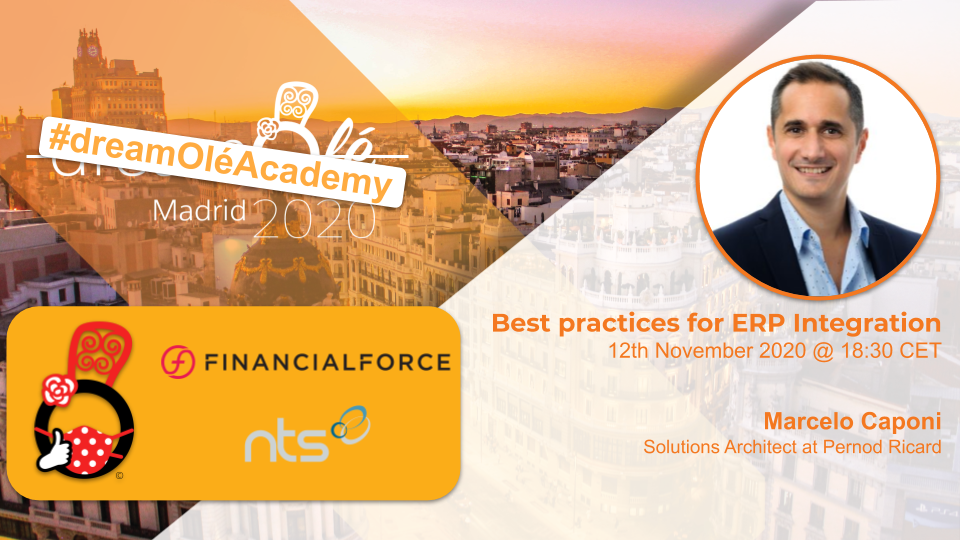 Session 3 Date: Thursday, 12th of November 2020 @ 18:30CET
Session Sponsors: FinancialForce & NTS
Session Abstract: Integrating Salesforce with multiple ERP systems in the same organization can be tricky without the proper architecture. This session will provide guidance on how to leverage the webhooks mechanism in Salesforce for ERP Integration. It will also help you think through Error Handling and best practices in Integrations like Canonical Data Model and API-first approach. For anyone looking to increase automation between Salesforce and ERP systems based on best practices, this session is for you!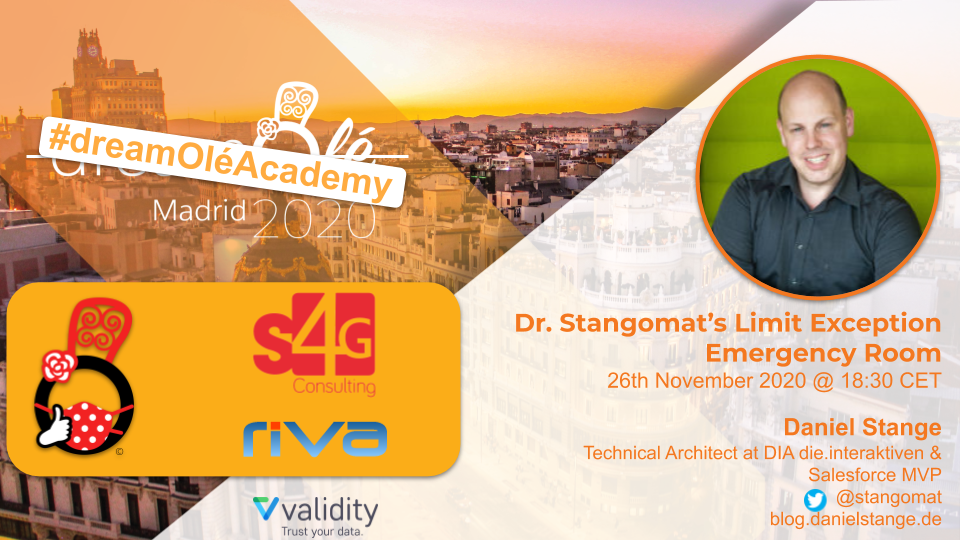 Session 4 Date: Thursday, 26th of November 2020 @ 18:30CET
Session Sponsors: S4G, Riva & Validity
Session Abstract: Salesforce offers a powerful platform to build your business application on. But with large opportunities, there also comes a good chance to shoot yourself in the foot. Often, you'll only learn about this when it's already too late and your users (or yourself) got a nasty email or error message, or your data has been corrupted. The good news is: You're not alone with this, and most problems can be mitigated. The session will run you through most common scenarios, and how to fix (and avoid) them. And as this is an emergency room, feel free to bring your most pressing emergencies!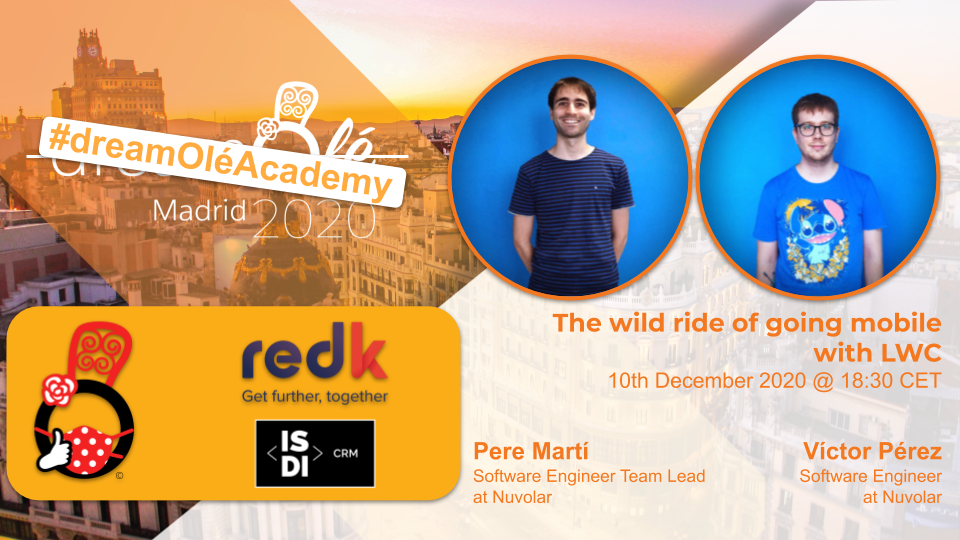 Session 5 Date: Thursday, 10th of December 2020 @ 18:30CET
Session Abstract: In this session we'd like to go through our experience using LWC to build a Single Page Application (for Tablet & Desktop) for one of the top food manufacturers in the country. During this process we encountered most of our challenges when using LWC while building the mobile version of the application. Thus, with the aim of helping other developers not to hit the same walls as us. We'd also like to highlight where and how using LWC helped us to create a solid mobile app for both Android and iOS in a much shorter time than it would have taken us using other industry standards like React Native. To top it off we will give you a glimpse of which is the architecture we used to organise a big Single Page Application that needs to handle the interaction and communication between dozens of LWC. Get ready for this wild ride into the world of LWC!