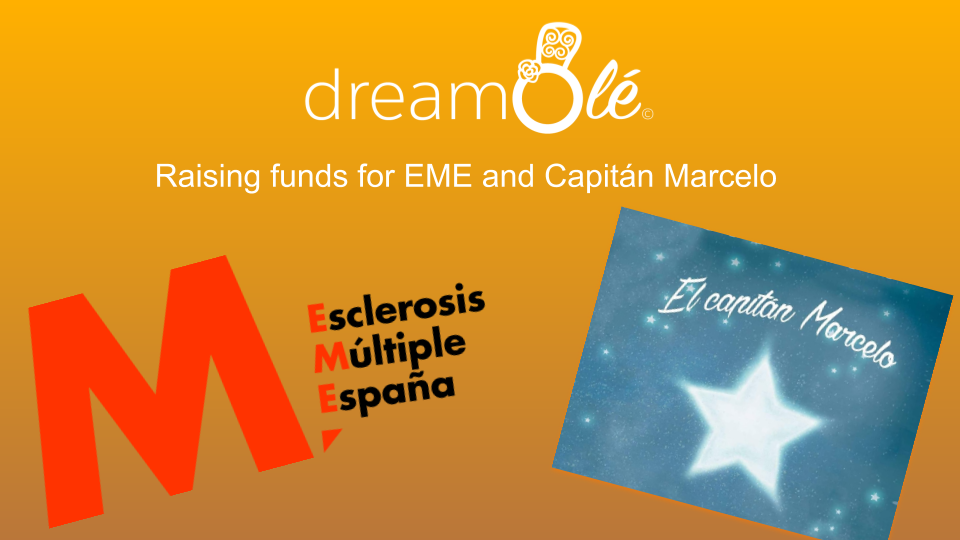 At dreamOlé 2020, we've chosen two different projects to give back, raising funds for:

Multiple Sclerosis Federation in Spain (EME)
Captain Marcelo foundation (research on childhood cancer)
Your donations will be equally shared among these two organisations after we close this crowdfunding project.

Capitán Marcelo – Captain Marcelo

Captain Marcelo is a book about hope written by Ana María López, Marcelo's mother; the hope that raising funds for research on Marcelo's condition will one day make it possible for other kids to survive 'Childhood Brain Stem Glioma'.

There's not much knowledge about this cancer, and every donation will have an impact on getting closer to making patients' life more comfortable, and hopefully be able to get over this cancer at some point.

The book 'Captain Marcelo' tells us the story about Marcelo and his family and what happened to them when they found out about Marcelo's condition.

All the money raised by selling the book and all donations made via the Kukumiku crowdfunding project, will go to the Sant Joan de Deu hospital foundation that specialises in research on this type of cancer.
EME – Multiple Sclerosis Spain

EME is a nonprofit entity declared of Public Utility, whose purpose is the promotion of all kinds of actions and assistance, health and scientific activities aimed at improving the quality of life of people with MS and other degenerative diseases of the nervous system. As a national association, it works by coordinating the actions of its member entities (37 associations and MS foundations) and managing the execution of such joint programs and projects. Multiple sclerosis Spain represents more than 9,500 people in Spain.

Mission: Our mission is to lead the MS movement in Spain as a representative entity and reference of the group of people with Multiple Sclerosis and other neurological diseases at national level and with a vocation for international cooperation.

In this sense, its main purpose is to defend the rights of people with MS, the improvement of their quality of life and the promotion of both scientific and social research. All this through actions to raise awareness, communication, claim, assistance, service provision, neurorehabilitation, training (affected and professional) and research.

Vision: The vision of the future posed by Multiple Sclerosis Spain (EME) is that people with MS have the best and most complete quality of life, as well as full access to all kinds of socio-political treatments and supports as long as there is no definitive cure for this sickness.